Ultra fine powder ultrasonic sieve shaker, shale shaker screen
Vibrating Sieve is one of the machinery equipment aims to improve the screening efficiency by applying the rotary and vibration operational mode to crush and screen the materials into different granularity products according to the customer's requirement.
Application
Vibrating Sieve acts as a precise powder sieve to filter medium particles such as sand, powder and mucilage. It mostly applied in chemical and pharmaceutical industries, metallurgy, mining industry, food processing, waste treatment etc.
Performance and Features

Low energy consumption, low noise
High screening accuracy, large capacity, simple structure
Fully enclosed structure, good sealing, prevent dust spillover, automatic discharge, more suitable for assembly line work
Screen body parts are used copper plate and section welded together (part group between body for bolt connection) overall stiffness is good, strong and reliable
Unique design of screen structure, convenient and quickly to change screen (only 3 to 5 minutes); And her mother screen fully supporting the fine screen, so fine screen can be long life, so as to reduce the consumables cost of the fine screen; In addition this design allows to using all kinds of screen (nylon, special dragon, PP network)
The design of the machine is exquisite and easy to assemble; one person can operate the machine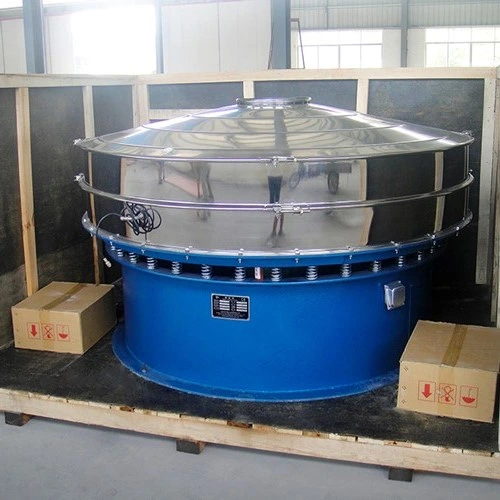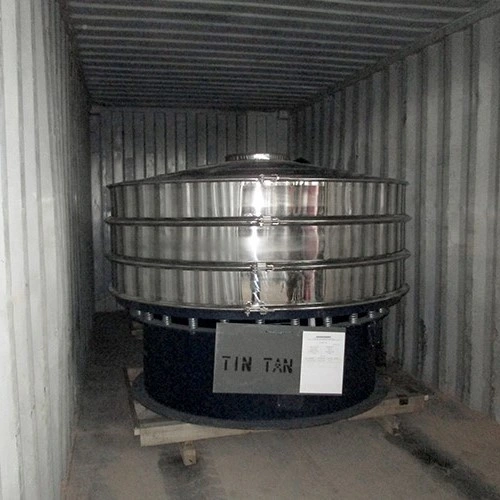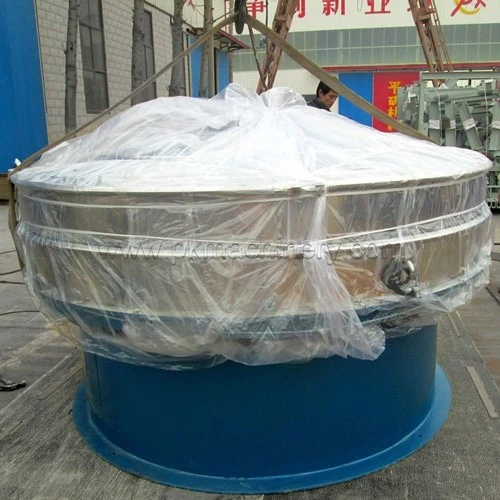 Working Principle:
Vibrating Sieve is a vertical-motor system, with eccentric hammers being installed on top and bottom of the machine, where the motor acts as the vibratory source. The direction of the eccentric hammers may change its rotational mode either in horizontal, vertical and inclined movement onto the sieving screener surface. The trajectories of the materials on the sieving machine can be change by adjusting the phase angle on both top and bottom parts.
We mainly provide the following vibrating screens (screening equipment) :
PSZS gyrtory screen
YA/YK circular vibrating screen
ZS linear vibrating screen
GTS trommel screen
Technical Parameters
Model
Nominal Diameter(mm)
Screen Diameter(mm)
Screen Surface Area(m3)
Feeding size (mm)
Specification
NO. of Layers
Frequency(rpm)
Power(Kw)
XZ-400
400
340
0.09
<10
2-325
1-5
1500
0.18
XZ-600
600
530
0.22
<10
0.25
XZ-800
800
720
0.4
<20
0.55
XZ-1000
1000
900
0.63
<20
0.75
XZ-1200
1200
1100
0.95
<20
1.1
XZ-1500
1500
1400
1.5
<20
1.5
XZ-1800
1800
1710
2.3
<30
2.2
XZ-2000
2000
1910
2.86
<30
3.7
Note: the parameter above is just for reference,it can be customized by different requirment.
Information Needed For The Quotation
To choose the most suitable machine for you ,please provide us more detail information as the followings:

Material:
Material name:_____
Feeding size:_____mm
Material density:_____t/m3
Material distribution:_____%
Separation destination:_____
Screen machine:
Capacity:_____t/h
Screen deck: _____
Particle size distribution of each layer:
Opening size:_____mm
Construction material:_____
Troubleshooting

When rotary vibrating screen running material does not automatically discharge:
The angle between upper and lower counterweight greater than 90 °.
The upper and lower counterweight angle adjust reversing.
There are abnormal sounds when rotary vibrating screen running:
Check if the screws clamps are loose and if the clamps fit for the screen plate.
Check if the perforated screen plate damaged, or whether the grid is put in the groove.
Check whether the base is durable, if the exciting force is too strong and unstable should reinforced.
Whether there is breakage of the spring.
The motor mounting bolts loose or damaged.
Whether the body have some contact with other objects.
The motor is running abnormally or stop running.
Check whether the power supply lack of phase or power outage.
Check whether the motor coil is burn-out.
Whether the lubricant inject too much.