Cooking Oil Vegetable Oil Olive Oil Palm Oil Filter (COP-50)

Application
COP oil filtration machine is special for filtering waste cooking oil, dirty vegetable oil, trench oil, swill oil and animal oil etc., it effectively and completely removes particles, odor, water, acid and alcohol etc. From waste oil. The treated oil is clean, limpidity, and good smell. COP is a good purification machine for Fry food factory, oil restaurant, cooking oil factory, vegetable oil factory, and waste oil collecting store. According to the treated oil usages, we can choose different machine body. For edible usage, we suggest to choosing stainless steel body; For industrial, we suggest to choose steel carbon body. According to different working place, we recommend Skid type and mobile type (Trailer with pneumatic tyre)
Features
1. This plant composed by two parts, one is the press filter, and other one is the vacuum oil purifier system. The press filter can remove the big and tiny impurity; The precision of purification can reach to 1 Micro. The Vacuum system equips three grades filter (primary filter, mass water separator, and fine filer). All process works under the vacuum condition.
2. For the primary filter, which is made of the stainlessness steel, it is anti-rust and anti-corrupt, it mainly removes the residual impurity which escape from the press filter, making sure the oil have not any impurity when it goes into the water separator and vacuum separator.
3. The water separator, which equips the special filter, which mainly remove the mass water from the oil, because usually the waste cooking oil always contains much water, so we need remove the mass from the oil. After the water separator, the oil just contains the tiny water and soluble water.
4. After the process of the water separator, the oil will goes into the vacuum separator, which adopts three-dimensional duplex evaporation and film evaporation. For protecting the oil nature, it is better that the oil temperature is lower than 80 C, Because our machine works under the vacuum and low pressure condition, so it don't need heat the oil to 100 C, usually it just need heat the oil to 45 C, Then it can remove the tiny water, soluble water, acid, alcohol and other volatility liquid and so on completely and effectively.
5. The fine filer, which is equips the stainlessness steel filter, the purification hole is less then 1 Micro, which can make sure the oil is completely clear, no any impurity.
Technical Parameters
Parameters
Unit
COP-10
COP-20
COP-30
COP-50
COP-100
COP-150
COP-200
COP-300
Flow Rate
L/min
10
20
30
50
100
150
200
300
Working Vacuum
MPa
-0.06 ~ -0.095
Working Pressure
MPa
≤0.4
Temperature Range
ºC
0 ~ 100
Power supply
380V,50Hz, 3 phase (or as needed)
Working noise
dB(A)
≤75
≤75
≤75
≤78
≤78
≤78
≤80
≤82
Heating power
KW
36
40
45
72
80
90
120
135
Total power
KW
38
42
47
75
87
101
135
147
Inlet/outlet
mm
25
25
25
32
42
50
50
60
Net weight
Kg
450
550
600
750
850
1000
1200
1500
Overall dimensions
mm
1500
×1000
×1200
1500
×1050
×1600
1500
×1050
×1650
1600
×1150
×1700
1750
×1250
×1800
1900
×1600
×1950
1900
×1700
×2000
2100
×1700
×2100
Guarantee Value
| | |
| --- | --- |
| Item | Guarantee indexes |
| Moisture content | ≤50 PPM |
| Demulsification value | New oil≤15min,running oil≤30min |
| Impurity size | ≤1 micron (no free carbon) |
| Gas content | ≤0.1% |
| Clean degree | ≤4 Grade (NAS1638) |
Detailed Image
Steel Carbon for Industrial Use( such as for biodiesel making)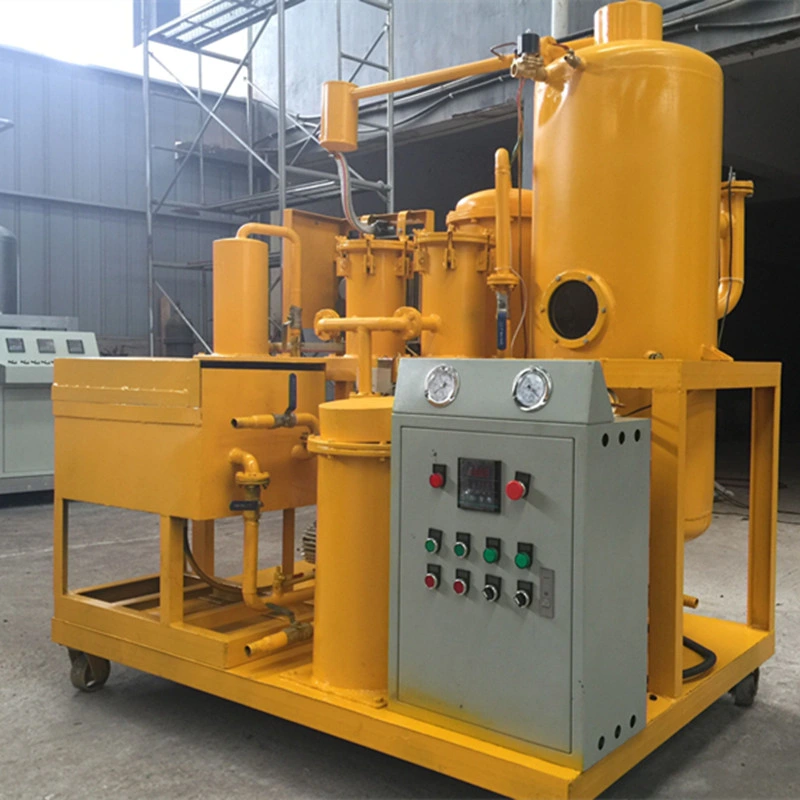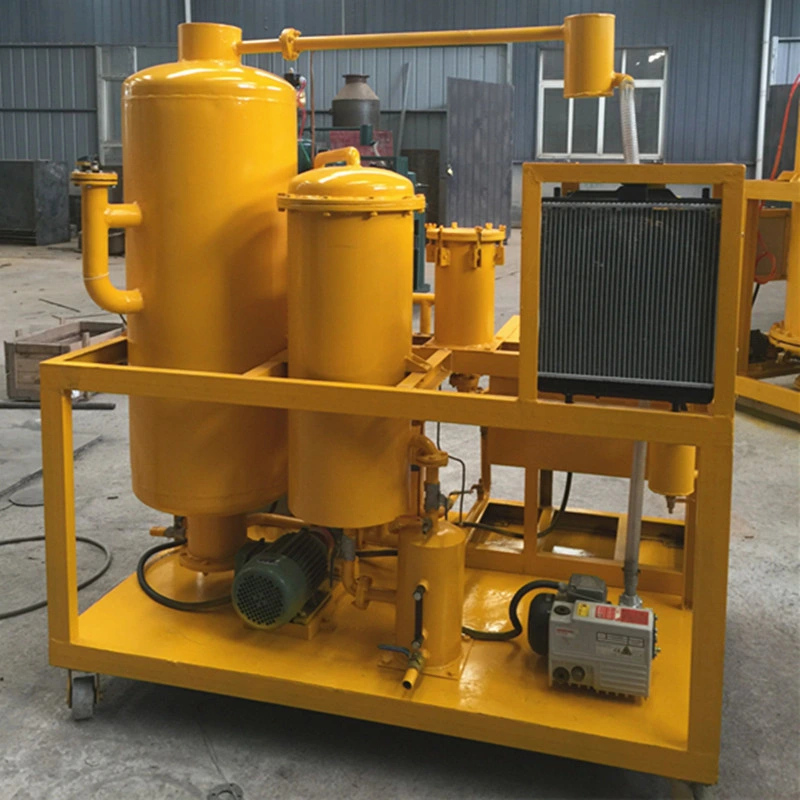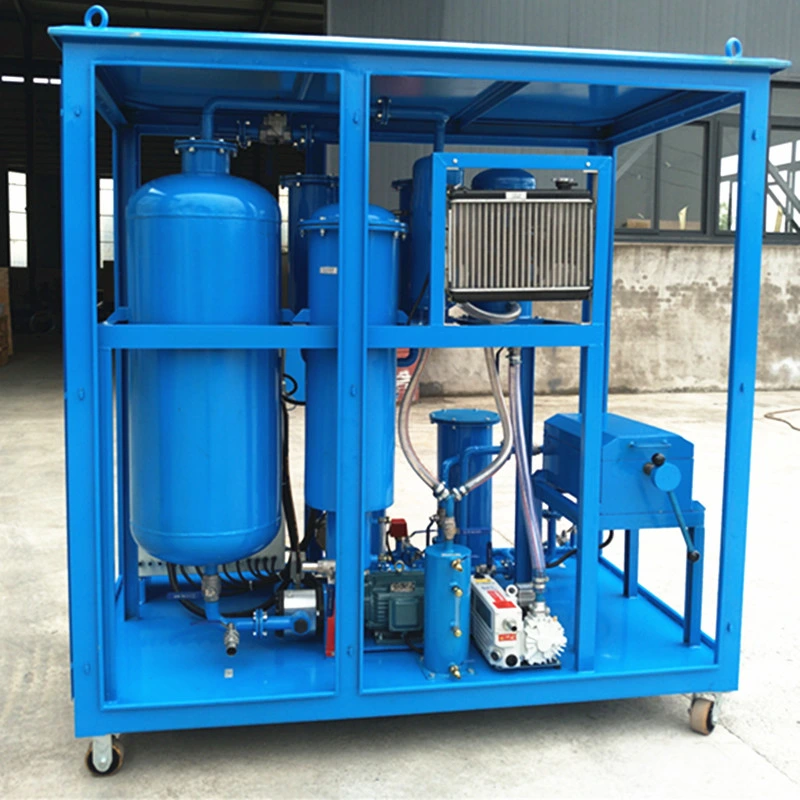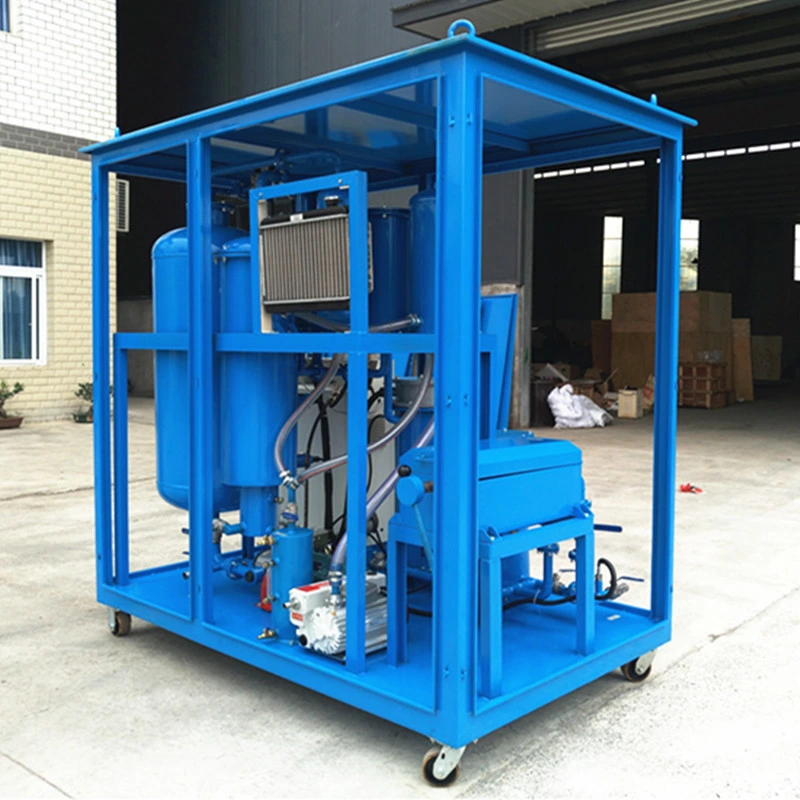 Stainless Steel for Edible Use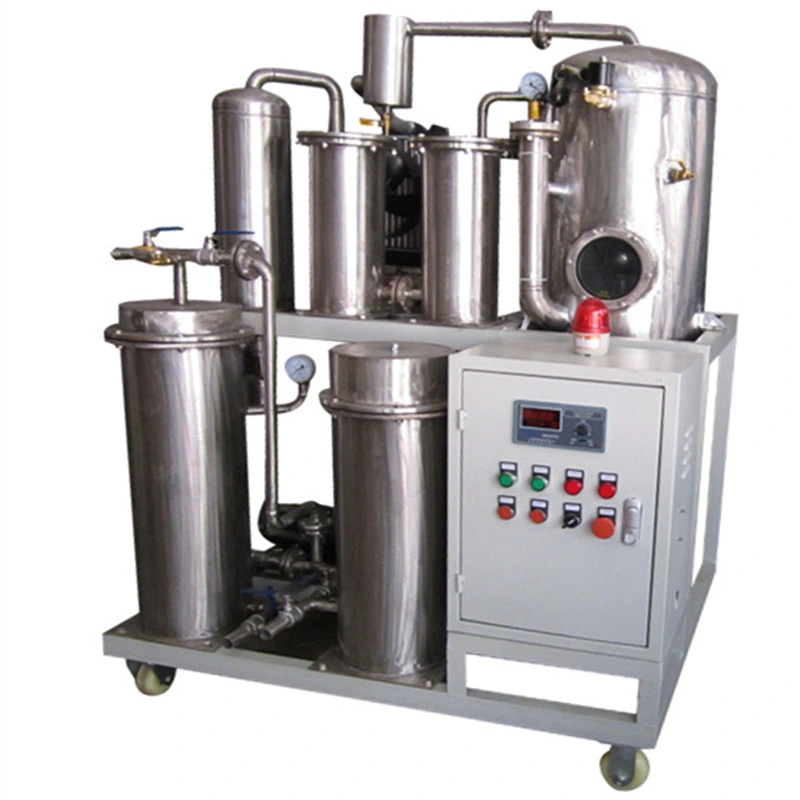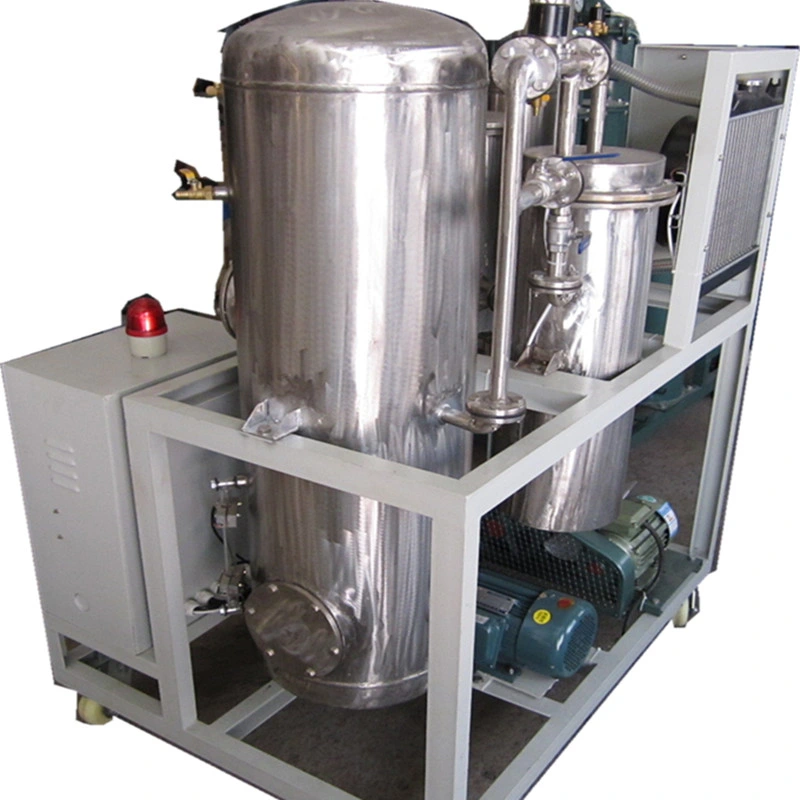 Our Main Oil Purifiers
1.ZY series vacuum transformer oil purifier
2.ZYA series vacuum automatic transformer oil purifier
3.ZYB series vacuum transformer oil regeneration purifier
4.ZYD series double-stage vacuum transformer oil purifier
5.ZYD-I series ouble-stage transformer oil regeneration purifier
6.ZYD-M series trailer-mounted transformer oil purifier
7.TY series vacuum turbine oil purifier
8.TYA series vacuum lubricating oil purifier
9.TYB series coalescence-separation oil purifier
10.TYC series vacuum lubricating oil regeneration purifier
11.CYA series centrifugal oil purifier
12.TPR series waste engine oil recycling system
13.PL series plate and frame oil filter press
14.JL series portable oil purifier
15.BZ series transformer oil regeneration device
About Us
Located at Chongqing city--a southwest electromechanical manufacturing center as well as national municipality, Chongqing TOP is a professional leading manufacturer and supplier of oil purifiers and various related testers. Our company consists of departments respectively for technological development, machinery manufacture, instrument manufacture and quality control etc. On basis of mature development and manufacture technology and highly qualified production management team, the products have high quality, easy operation, excellent performance and long service life.
TOP Oil Purifiers are widespread in the fields of electric power, petrifaction, mineral, shipbuilding, steel construction, bridge, automobile and railway. They play a great role in reducing energy consumption for clients as well as environmental pollution. We provide you with reliable oil purifiers such as transformer oil purifier, turbine oil purification machine, hydraulic oil purifier, lubricating oil filtration machine, fuel oil restoration, oil and water separator, oil regeneration equipment, and waste oil recycling equipment etc.
TOP Testers work on the development, production, market, technical and after-sale service for petrochemical analyzers, transformer substation electrical testing equipment and circuit detecting equipment. Main products are water content testers, surface/interfacial tension testers, flash point testers, kinematic viscosity testers, oil acidity testers, insulation oil dielectric strength testers, transformer characteristics testers, relay protection testers,and high voltage testing equipment etc.
Trustable Technical and After-sale Serivece
1. Long-term warranty of 2 years.
2. Provide best spare parts at low price (some for free).
3. Provide timely reply and technical support.
4. If anything wrong with the equipment, we would give prompt response and provide solution within 24 hours.
5. If there is technological innovation, we would guide our customer to upgrade.