The drilling fluid shaker is the first stage of the drilling mud solid control system, which handles the mud solid particles of more than 74μm from the bottom of the hole.Drilling fluid vibrating screen is based on the vibration motor under the action of eccentric block force, through the seismic beam transfer to produce linear motion, circular motion or translational elliptical motion track.
The vertical line of the two motors and the Angle of the screen into a Angle or linear, so that the two vibration motor rotation direction is opposite, the vibration force generated by the mutual transport, offset each other in the X direction, the vibration force is zero.
And two motors in Y direction vibration force each other to drive the whole the reciprocating movement of the screen box up and down along the Y direction, at the same time make the mud on the surface of the mesh along the Y direction is thrown, then free fall has been moving forward, so being thrown down on the mud forward movement, mud slurry through a sieve into the mud tank leakage, and mud in the big screen mesh with perforation sieve out part of the solid particles was, which had mud slurry purification effect.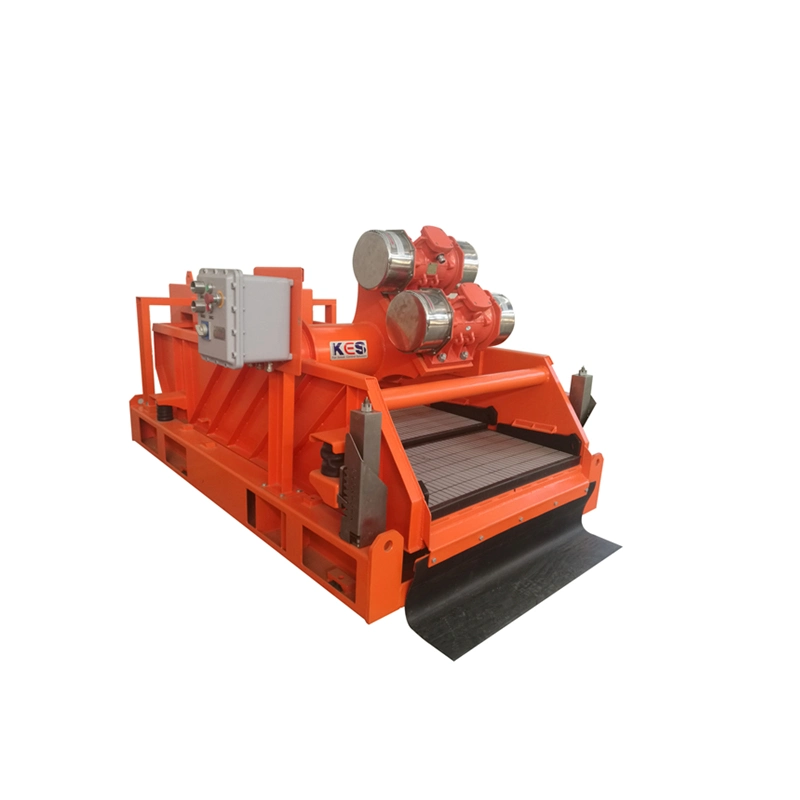 KES dual-track mud shakers are based on years of production and use experience, as well as numerous customer feedback;Combined with the advantages of similar mud shaker at home and abroad, after our company engineering and technical personnel and related scientific research units jointly developed a product, make the shaker amplitude and processing capacity increase, at the same time to achieve the role of energy saving and consumption reduction, and can be customized.

Model

KAZS112-QDZ

KAZS113-AHB

KAZS114-AHB

KAZS114-ALD

Vibration Mode

Linear Motion

Treatment Capacity(m³/h)

70

120

150

150

Motor(kW)

2x0.75

2x1.5

2x1.72

2x1.94

Screen Qty

2

3

4

4

Screen Size(mm)

750x900

585x1165

585x1165

585x1165

Screen Area(square meters)

1.35

2.04

2.73

2.73

Output Force(G)

≤7.1G

≤7.5G

≤7.5G

≤8.0G

Double Amplitude(mm)

3.92~5.62

4.14~5.96

4.4~6.34

4.4~6.34

Deck Ajustment

+2°

-3~+3°

-3~+3°

-3~+3°

Weir Height(mm)

550

885

885

885

Weight(kg)

837

1365

1553

1520

Dimensions(mm)

1940x1360x970

2322x1650x1400

2912x1650x1425

2650x1650x1425
KES products are widely used in different applications and industries such as oil and gas drilling, CBM drilling, geothermal drilling, drilling waste management, river silt treatment, and the modern trenchless infrastructure construction, including tunneling, micro-tunneling, pipe-jacking, bored piles construction, piling construction and diaphragm wall construction., etc.